Our Professionals Can Restore A Deck For Longevity And Durability.
Log & Timber Worx provides quality craftsmanship when you want to restore a deck to dependable performance.Your deck is exposed to the elements twenty-four hours a day, 365 days a year. That kind of exposure can be unrelenting and can take its toll on your property. We analyze your deck for safety, aesthetics, and durability and create a plan of action you can rely on. Fixing up your deck:
A beautiful deck can value to your lifestyle and property.

Fixing up and maintaining your deck can extend its lifetime so it won't need to be replaced as often. 

We ensure your deck isn't a liability for your family or guests by making minor repairs when necessary.
Our 3-Step Deck Restoration Process Keeps You Covered.
We inspect and analyze your deck to create a detailed proposal for your project. Whether it needs quick maintenance or a complete restoration, our team can restore a deck to prime performance. We tap into a comprehensive three-tiered process to restore your deck. This includes:
Using industrial grade pressure washing equipment, we remove mold, dirt, and slick buildup like algae from your deck. Our biodegradable cleaning products are earth friendly and uncompromisingly effective.

Sometimes, your deck needs an added level of prep before it's ready for staining. Our Clarke Commercial Floor sanders open the pores of your wood surface to prepare it for long-lasting protection.

Finally, we round out the service with deck staining or painting. This process protects the surface from water damage, discoloration, rot, and more. We'll work with you to color match your water or oil-based coating.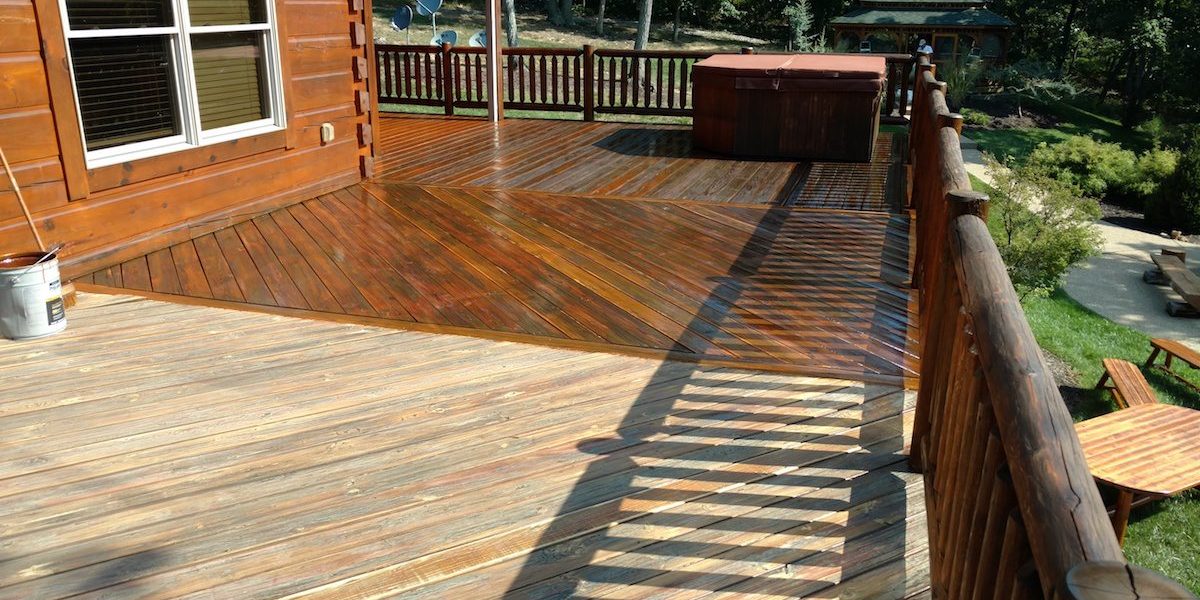 Our Experience Makes Us Ideal For Different Types of Decks.
With specialized technology to guide us, we service the following deck surfaces:
Composite
Pressure treated pine
Exotic hardwood
Cedar
Our team customizes our service approach to the unique needs of your surface - so you know you're always getting the safest and most effective solution for your decking.
Your deck should always be safe. It should always be inviting. And it should always be your outdoor destination when the weather is sunny. With Log & Timber Worx, your deck will be always meet your expectations. Are you ready for a free estimate from a team that can restore a deck to peak performance? Bring on the BBQs!