Satisfied Customer Stories: Caulking & Sealing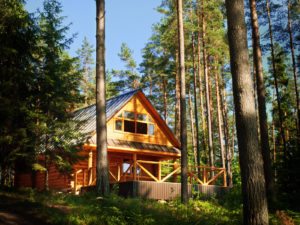 Our clients were proud new owners of a log home. And there was a lot to love about their property – but there was one major drawback. The previous owner hadn't invested in proper caulking and sealing. Unless our clients took action, they were poised to pay the price.
The Issue: A Vulnerable Home
Log homes that lack proper caulking and sealing are vulnerable to a range of issues, and they can take a serious toll on the long-term health and curb appeal for the property. Our clients were concerned about:
Erosion
Over time, the elements can simply wear a home down. The weathered look might look historic – but it harms the overall quality of your exterior.
Water damage
Without a protective barrier, the client's log home was vulnerable to rot and deterioration from rain and humidity.
UV damage
Even sunny days can take their toll on a home. UV rays can cause fading and uneven color distribution.
Pest issues
Insects love a log home. And without sealant to keep them out, they were ready to move right in.
The Solution: A (Subtle!) Suit of Armor
Our team used a two-pronged approach to protect our client's home: caulking and sealing. This protected the entire exterior from wear and tear. And because we only source the best products, the application didn't compromise the appearance of the client's exterior. The result? A beautiful and well protected home – and happy new homeowners!
Ready to protect your log home? Get in touch today to learn how our caulking and sealing services can invest in your property!